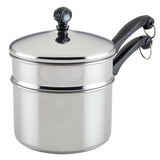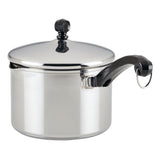 Farberware
>
2-Quart Double Boiler Saucepan with Lid
SAUCEPAN WITH DOUBLE BOILER AND LID: Versatile 2-quart saucepan and double boiler Insert pulls double duty on the stovetop for a wide range of steaming and gentle boil recipes
RAPID, PRECISION HEAT: Double boiler combo has a full cap base featuring a thick aluminum core surrounded by stainless steel for fast, even heating
LOCK IN HEAT AND FLAVOR: Saucepot boiler combo includes a self-basting stainless steel lid to seal in heat and flavor
EASY HANDLING: Comfortable saucepot handles with iconic styling provide a confident grip and are oven safe to 350 degrees F
FAST CLEANUP: This dishwasher-safe double boiler combines technology with the styling and quality that Farberware has delivered for decades
Set Contents:
2-Quart Saucepan with Lid and Double Boiler Insert
Product Dimensions:
12.0"L x 6.75"W x 8.375"H
Pull double duty on the stovetop with this convenient saucepan and double boiler combo. Use the double boiler insert to slowly simmer sauces, melt chocolate, or gently cook delicate custards. Without the insert, the saucepan and lid work great for simmering white rice or heating a delicious soup. A self-basting lid helps seal in heat and flavor, and the cookware is dishwasher safe for convenient cleanup.
SKU : 50057
Exterior Finish: Polished Stainless Steel
Handles: Screw Welded Durable Plastic
Interior Surface: Emery Finish
Lid Material: Stainless Steel
Dishwasher Safe: Yes
Induction Suitable: No
Oven-safe Temperature: 350°F