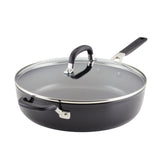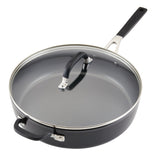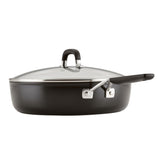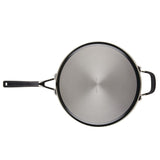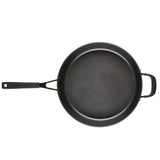 KitchenAid
>
Hard Anodized Nonstick 5-Quart Saute Pan with Lid
QUICK HEATING PERFORMANCE: KitchenAid 5-quart sauté pan with lid is crafted from durable hard anodized aluminum that is 6x harder than traditional aluminum for quick heat distribution and everyday use
MADE FOR EVERYDAY COOKING: KitchenAid sautéing pan is crafted from durable hard anodized aluminum that is 6x harder than traditional aluminum for quick heat distribution and everyday use
TRIPLE LAYER NONSTICK: Large sauté pan handle rivets have been finished with triple layer nonstick for long-lasting food release and easy cleaning
SILICONE GRIP HANDLES: Dual riveted handles are finished with silicone grips to remain cooler while cooking on the stovetop
GLASS LID: Tempered glass lid fits snug on the rim of the nonstick sauteuse to lock in heat and flavor
Craft meals and signature dishes with this KitchenAid Hard Anodized Nonstick Saute Pan with Lid and Helper Handle. A thick, forged aluminum base provides quick heat distribution, while thinner side walls allow the pan to remain lightweight and warp-resistant. The pan is crafted from durable hard anodized aluminum that's 8x harder than traditional aluminum for long-lasting everyday cooking. Skillet interior and handle rivets are finished with triple-layer nonstick to effortlessly release foods and keep the pan looking newer, longer.
SKU : 84813-TE02
Exterior Finish: Silicone Polyester
Handles: Dual Riveted Silicone with Stainless Steel
Interior Surface: Nonstick
Lid Material: Tempered Glass
Dishwasher Safe: No
Induction Suitable: No
Oven-safe Temperature: 400°F
Limited Lifetime Warranty
Cookware, bakeware, and kitchenware products sold on Potsandpans.com are engineered for performance, versatility, convenience, and safety. Our nonstick coating is manufactured to comply with FDA and EU regulations for food contact safety standards.
This product contains (Este producto contiene) Fluoropolymer, PTFE, FEP, PFA (PFAS). For more information on PFAS or chemicals in this product, visit (Para obtener más información sobre PFAS o productos químicos en este producto, visite) https://www.potsandpans.com/pages/product-disclosures.