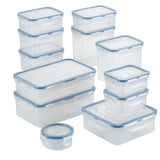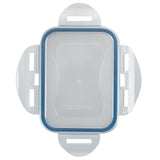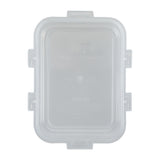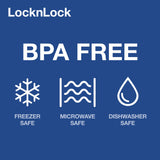 LocknLock
>
24-Piece Food Storage Container Set
DURABLE: Food containers feature a Unique 4-hinge locking system durability tested for long-lasting performance up to 3 million uses
NO MESS, STAYS FRESH: Enhanced storage container locking system is 100 percent airtight to keep foods fresh longer and 100 percent leakproof to prevent unwanted drips and spills
BPA-FREE: Peace of mind for healthy, happy food storage
VERSATILE: Microwave safe and dishwasher safe for a convenient, all-in-one storage solution in the refrigerator, freezer, pantry, and on the go (lids not intended for microwave use)
SMART STORAGE: Versatile 24-piece container set includes (2) 0.75-cup containers, (2) 1.5-cup containers, 2) 2-cup containers, 2) 3.6-cup containers, 0.38-cup container, 3.4-cup container, 3.7-cup container, and a 4.2-cup container
Set Contents:
Two 0.75-cup containers, two 1.5-cup containers, two 2-cup containers, two 3.6-cup containers, 0.38-cup container, 3.4-cup container, 3.7-cup container, and a 4.2-cup container with lids
Product Dimensions:
12.30"L x 9.30"W x 8.50"H
This big set of large, medium, and small storage containers with lids provides endless storage options and a lightweight design makes it easy to move containers on higher pantry shelves and cabinets. LocknLock's unique 4-hinge locking system has been durability tested to last up to 3 million uses, and the enhanced silicone seals are 100% airtight to keep foods fresh longer and 100% leakproof to prevent messy drips and sloppy spills. BPA-free construction provides a healthy and versatile storage solution for the pantry, cupboard, refrigerator, freezer or anywhere your foods need to stay fresh. Microwave safe for convenient reheating and dishwasher safe for easy cleanup (lids not intended for microwave use).
SKU : HPL817S12
Dishwasher Safe: Yes
Microwave Safe: Yes
Oven-safe Temperature: Not Applicable
Limited Lifetime Guarantee