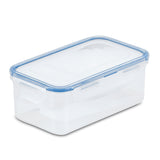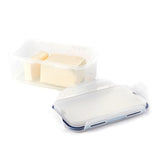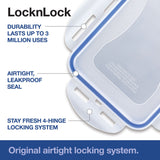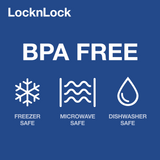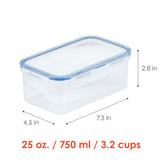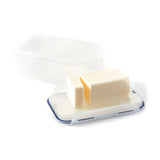 LocknLock
>
25-Ounce Specialty Butter and Cheese Container
SMART KITCHEN STORAGE: The LocknLock Specialty 25-Ounce Butter and Cheese Container is perfectly designed to keep cheeses or a standard stick of butter fresh and ready to spread
DURABLE FOOD CONTAINER: Unique 4-hinge locking system is durability tested for long-lasting performance up to 3 million uses
NO MESS, STAYS FRESH: Enhanced locking system is 100 percent airtight to keep foods fresh longer and 100 percent leakproof to prevent unwanted drips and spills
BPA-FREE FOOD CONTAINER: Peace of mind for healthy, happy food storage
VERSATILE BUTTER DISH: Interior lid doubles as a serving tray and features measurement markings for easy reference on the go.
Product Dimensions:
10.09"L x 7.09"W x 7.09"H
Keep speciality foods fresh with this versatile store-n-serve container designed for unique food items. Patented 4-hinge locking system has been durability tested to last up to 3 million uses, and the enhanced silicone seal is airtight to keep foods fresh longer and leakproof to prevent messy drips and sloppy spills. BPA-free construction provides a healthy and versatile solution for picnics, parties, the pantry, the refrigerator, or anywhere your foods need to stay fresh.
SKU : HPL956
Dishwasher Safe: Yes
Microwave Safe: true
Oven-safe Temperature: No
Limited Lifetime Guarantee