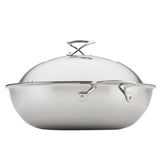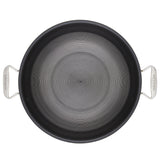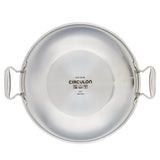 Circulon
>
Wok with Glass Lid and Hybrid SteelShield Technology
WHAT YOU GET: Circulon hybrid clad stainless steel 14-inch wok with glass lid
THE BEST OF CLAD AND NONSTICK: At Circulon, we know cookware and we constantly push the limits. After 35 years of innovation, clad cookware takes the next step with Circulon SteelShield Clad Tri-Ply. Our stainless steel and nonstick hybrid surface means no more scrubbing steel, and no more scratched or flaking nonstick. All with exceptional results.
WHAT IS STEELSHIELD: Circulon SteelShield pots and pans are the first to feature stainless steel circles raised above a premium nonstick finish for the most versatile and durable cookware surface yet. Use any kitchen spoon or spatula on hand to flip, fry, and even scrape the innovative SteelShield rings. Metal utensils? Bring it on.
WHY COOK ON A HYBRID SURFACE? The elevated rings are there to protect the nonstick from scratches while also delivering a great sear. Paired with a splash of oil, you can finally get delicate foods like scallops to sear and release beautifully or perfectly crisp salmon skin with less sticking than other stainless steel woks and stirfry pans.
PRECISION AND DURABILITY: With ultra durable clad construction throughout the entire pan, Circulon SteelShield Clad Tri-Ply means unrivaled heat control and maximum durability. Plus, the wok is easy enough to hand wash (you'll thank us for the flat nonstick rivets!) or just throw it in the dishwasher.
Product Dimensions:
16.0"L x 15.875"W x 6.375"H
Cook from scratch without the scratches with this extra-durable, perfectly constructed wok with side handles and a tempered glass lid. SteelShield™ technology features elevated steel rings to protect the nonstick surfaces, so you never have to worry about scratched nonstick again, and tri-ply clad construction means your wok heats up quickly on any cooktop, including induction.
SKU : 30053
Base Material: Induction Plate
Exterior Finish: Polished Stainless Steel
Handles: Dual Flat Riveted Hollow core cast stainless steel
Interior Surface: Nonstick STEELSHIELD
Lid Material: Tempered glass, wide rim, SS handle
Dishwasher Safe: Yes
Induction Suitable: Yes
Oven-safe Temperature: 500°F
Limited Lifetime Warranty