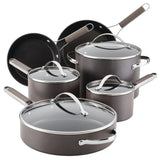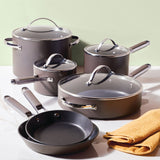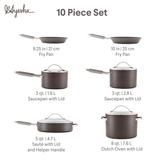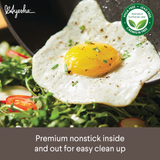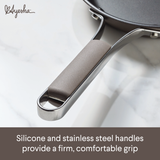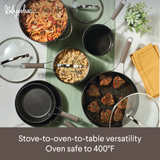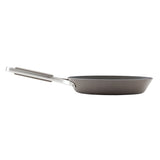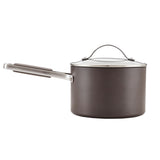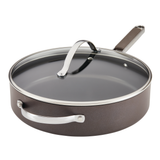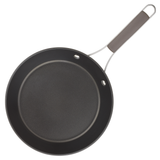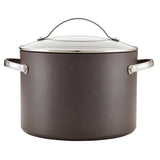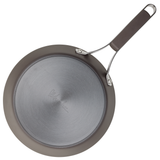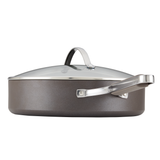 OVEN TO TABLE: Stylish nonstick cookware from Ayesha Curry is crafted from hard anodized aluminum for fast, even heat with extra durability for busy, modern kitchens
CONVENIENCE & EASE: Pots and pans feature a premium, inside and out nonstick for effortless food release and easy cleanup
MADE TO LAST: Thicker gauge hard anodized aluminum cookware is 6X harder than regular aluminum cookware for extra durability
SET INCLUDES: 2-quart saucepan with lid, 3-quart saucepan with lid, 8-quart stockpot with lid, 5-quart saute pan with lid and helper handle, 8.25-inch frying pan, 10-inch frying pan
SILICONE GRIP HANDLES: Dual riveted, stainless steel handles feature silicone grips for a cool, comfortable hold from stovetop to oven to table
Set Contents:
2-quart saucepan with lid, 3-quart saucepan with lid, 8-quart stockpot with lid, 5-quart saute pan with lid and helper handle, 8.25-inch frying pan, 10-inch frying pan
Product Dimensions:
25.75"L x 15.625"W x 11.5"H
Designed for practical performance with a stylish touch, the Hard Anodized Collection from Ayesha Curry is effortless cookware for the everyday cook. Thick gauge, hard anodized aluminum pots and pans deliver fast, even heat and are extra durable for busy, modern kitchens. Featuring two saucepans, two frying pans, a stockpot, and a saute pan with lid and helper handle, this professional grade cookware set has a sleek, versatile design that pays special attention to the details that make cooking feel less like work. A triple-layer premium nonstick surface lets foods glide off the pan with ease, plus an extra nonstick exterior finish makes cleanup a breeze, and tempered glass lids let you watch meals while they cook. Sleek, stainless steel and silicone handles give a secure, comfortable hold, and because oven-to-table versatility and convenience is a must, this essential nonstick cookware set is oven safe to 400 degrees! Make some memories and bring the family together for great meals made easier with the Ayesha Curry 10-Piece Hard Anodized Nonstick Cookware Set.
SKU : 80291
Body Material: Hard Anodized Aluminum
Exterior Finish: Non-stick
Handles: Not Applicable
Interior Surface: Triple layer premium non-stick
Lid Material: Glass
Dishwasher Safe: No
Induction Suitable: No
Oven-safe Temperature: 400°F
Limited Lifetime Warranty
Cookware, bakeware, and kitchenware products sold on Potsandpans.com are engineered for performance, versatility, convenience, and safety. Our nonstick coating is manufactured to comply with FDA and EU regulations for food contact safety standards.
This product contains (Este producto contiene) Fluoropolymer, PTFE, FEP, PFA (PFAS). For more information on PFAS or chemicals in this product, visit (Para obtener más información sobre PFAS o productos químicos en este producto, visite) https://www.potsandpans.com/pages/product-disclosures.