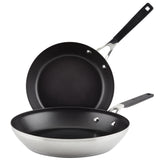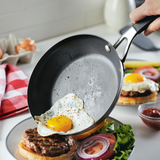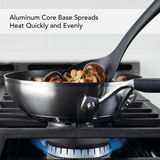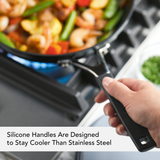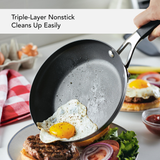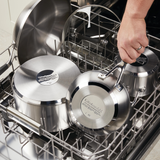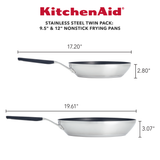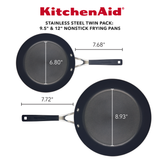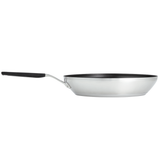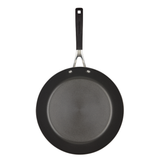 KitchenAid
>
2-Piece Stainless Steel Nonstick Frying Pan Set
QUICK, EVEN HEATING: KitchenAid frying pans have been crafted from stainless steel with an aluminum core base to spread heat quickly and evenly
SILICONE GRIP HANDLES: Dual riveted fry pan handles are finished with silicone grip to remain cooler while cooking on the stovetop
PREMIUM FOOD RELEASE: Skillets are finished with superior nonstick so eggs, delicate fish filets, and other foods slide out the pans with ease
FRYING PAN SET INCLUDES: 9.5-inch frying pan and 12-inch frying pan to cook delicious entrees and sides are the same time
EASY TO CLEAN: Durable nonstick pans are dishwasher safe for easy cleanup
Set Contents:
9.5-inch nonstick frying pan, 12-inch nonstick frying pan
Crafted from durable stainless steel with a layer of heat-conductive aluminum in the base, these versatile frying pans are designed to heat quickly and evenly to cook entrees and sides to perfection. Featuring a premium nonstick interior, this induction compatible duo make it easy for delicate salmon filets and fingerling potatoes to slide off the pan. The stainless steel handles have been finished with silicone grip for cooler handles while cooking, when compared to traditional stainless steel handles.
SKU : 71023
Base Material: Induction Plate
Body Material: Stainless Steel
Exterior Finish: Sunrayed
Handles: Dual Riveted Silicone with Stainless Steel
Interior Surface: Nonstick
Dishwasher Safe: Yes
Induction Suitable: Yes
Oven-safe Temperature: 400°F
Lock in heat
Tempered glass lids retain heat and flavor
Measure quickly
Volume marks in saucepans and stockpots for easy measuring
Easy food release
Select items feature a PFOA-free nonstick interior





Easy to clean
Cookware is dishwasher safe for quick, easy cleanup
Stove-to-oven meals
Cookware is oven safe to 400°F without lids, 350°F with lids
Get the Most Out of Your Cookware

Match pan and burner size and center it. Don't leave an empty pan on a hot burner or allow it to boil dry.

Bring food to room temperature before cooking on a medium to low heat. Try oil or butter to avoid cooking sprays.

Use potholders when handling hot cookware. Use silicone, nylon or wood utensils. Allow foods to release before flipping.

Cool cookware completely before washing. Dry immediately with a towel.
Cookware, bakeware, and kitchenware products sold on Potsandpans.com are engineered for performance, versatility, convenience, and safety. Our nonstick coating is manufactured to comply with FDA and EU regulations for food contact safety standards.
This product contains (Este producto contiene) Fluoropolymer, PTFE, FEP, PFA (PFAS). For more information on PFAS or chemicals in this product, visit (Para obtener más información sobre PFAS o productos químicos en este producto, visite) https://www.potsandpans.com/pages/product-disclosures.