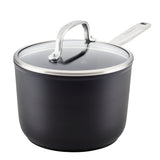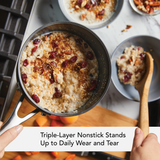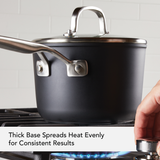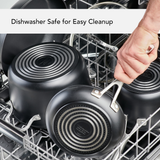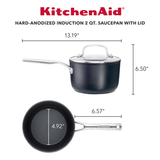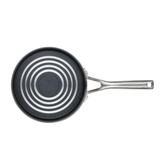 KitchenAid
>
Hard-Anodized Induction 2-Quart Nonstick Saucepan with Lid
EVEN, CONSISTENT HEAT: Saucepan is equipped with a thick, forged base designed to heat evenly for experimenting with new recipes and getting beautifully browned results on any stovetop
DURABLE CONSTRUCTION: Crafted from durable hard anodized aluminum, this premium-quality pot is built for everyday inventive cooking
PREMIUM FOOD RELEASE: KitchenAid hard anodized saucepan is finished with triple layer, nonstick to stand up to daily wear and tear
FULLY NONSTICK INTERIOR: Handle rivets are finished with enhanced nonstick for all around easy food release
EASY TO CLEAN: Durable 2-qt saucepan and glass lid are dishwasher safe for easy cleanup
Product Dimensions:
13.19"L x 6.61"W x 6.50"H
Crafted from heavy-gauge, hard anodized aluminum, this pan is durable enough for everyday use to experiment with new, exciting recipes and cooking techniques in the kitchen. Thick, forged base is designed to heat evenly, eliminating hot spots for beautifully browned results on any stovetop. Triple-layer nonstick on the cookware interior and handle rivets provide effortless food release for a completely nonstick cooking surface. Tempered-glass lid locks in heat, giving you the most flavor from every ingredient. An extra-wide handle can be found on the lid, for a firm, confident hold during the cooking process.
SKU : 80192
Base Material: Induction
Body Material: Hard Anodized Aluminum
Exterior Finish: Silicone Polyester
Handles: Dual Riveted Stainless Cast
Interior Surface: Nonstick
Lid Material: Glass
Dishwasher Safe: Yes
Induction Suitable: Yes
Oven-safe Temperature: 500°F/350°F with Lids
Cookware, bakeware, and kitchenware products sold on Potsandpans.com are engineered for performance, versatility, convenience, and safety. Our nonstick coating is manufactured to comply with FDA and EU regulations for food contact safety standards.
This product contains (Este producto contiene) Fluoropolymer, PTFE, FEP, PFA (PFAS). For more information on PFAS or chemicals in this product, visit (Para obtener más información sobre PFAS o productos químicos en este producto, visite) https://www.potsandpans.com/pages/product-disclosures.