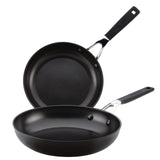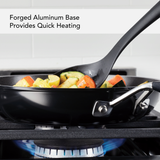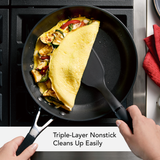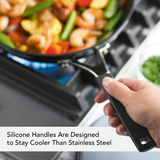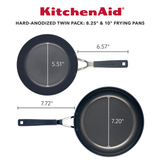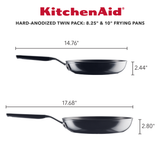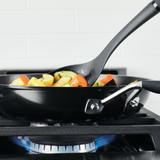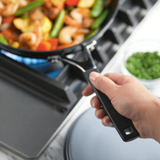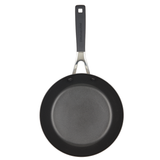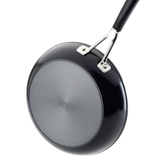 KitchenAid
>
Hard Anodized Nonstick 2-Piece Frying Pan Set
QUICK HEATING PERFORMANCE: Thick aluminum base and thinner side walls provide quick heat distribution and a lightweight, warp-resistant frying pan
MADE FOR EVERYDAY COOKING: KitchenAid frying pan is crafted from durable hard anodized aluminum that is 6x harder than traditional aluminum for quick heat distribution and everyday use
TRIPLE LAYER NONSTICK: Skillet interior has been finished with triple layer nonstick for long-lasting food release and easy cleaning
GOURMET UPGRADE: Handle rivets are finished with triple layer nonstick to release foods and keep the interior of the pan looking newer, longer
FRYING PAN SET INCLUDES: 8.25-inch frying pan and 10-inch frying pan to create flavorful entrees and complementary sides at once
Set Contents:
8.25-inch frying pan, 10-inch frying pan
Featuring thick, forged aluminum bases to provide quick heat distribution, while thinner side walls allow the pans to remain lightweight and warp-resistant. These 8.25-inch and 10-inch skillets have been crafted from durable hard anodized aluminum that is 8x harder than traditional aluminum for long-lasting everyday cooking. Fry pan interiors and handle rivets have been finished with triple-layer nonstick to effortlessly release foods and keep the pans looking newer, longer. Dual riveted stainless steel handles are finished with silicone grips to remain cooler while cooking when compared to traditional stainless steel handles.
SKU : 84803
Base Material: Basemark
Body Material: Hard Anodized Aluminum
Exterior Finish: Silicone Polyester
Handles: Dual Riveted (nonstick) Silicone with Stainless Steel
Interior Surface: Nonstick
Dishwasher Safe: No
Induction Suitable: No
Oven-safe Temperature: 400°F cookware, 350°F lids
Get the Most Out of Your Cookware

Match your burner size to your pan size. Don't leave an empty pan on a hot burner or to boil dry.

Heat your pans on medium to low heat. Try a little oil or butter to avoid cooking sprays.

Use potholders when handling hot cookware. Use silicone or wooden utensils.

Cool cookware completely before hand-washing with warm soapy water and a soft sponge