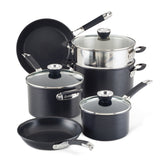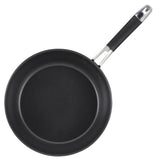 Anolon
>
SmartStack 9-Piece Cookware Set
WHAT YOU GET: Anolon SmartStack cookware set includes 2-quart saucepan with lid, 4-quart saucepan with helper handle and lid, 6-quart stockpot with lid, 8.5-inch frying pan, 10-inch frying pan, and a stainless steel steamer insert
HOW IT WORKS: Anolon SmartStack cookware pieces stack together to help you stay organized with nesting cookware sets that use 62% less space in the cabinet or cupboard.
SLICK PERFORMANCE: These versatile pots and pans feature an ultra-durable nonstick surface that outlasts traditional nonstick by up 16X, so your creations glide off the pan easily for years to come.
LOCK AND LOAD: Protect your nonstick from everyday wear and tear. When Anolon SmartStack cookware pieces stack together, the patented interlocking handles prevent nonstick surfaces from scratching against each other.
TOUGH CUSTOMER: Nonstick cookware set is engineered for fast, perfectly uniform heating. Hard-anodized construction is twice as hard as stainless steel for maximum durability.
Set Contents:
2-quart covered saucepan, 4-quart covered saucepan with helper handle, 8-quart covered stockpot, 8.5-inch skillet, 10-inch skillet, 12-inch skillet, and stainless steel steamer insert
Product Dimensions:
0.00"L x 0.00"W x 0.00"H
Featuring generously sized saucepans, skillets, a stockpot, and a versatile stainless steel steamer insert, this innovative stacking cookware set gives you all the pieces you need in just two short stacks under 13-inches to save 62% more storage space. Patented interlocking handles keep the pans suspended to protect the nonstick surface.
SKU : 81096
Base Material: Induction
Body Material: Hard Anodized Aluminum
Exterior Finish: Nonstick
Handles: Dual Riveted Cast Stainless Steel with Silicone
Interior Surface: Nonstick
Lid Material: Tempered Glass
Dishwasher Safe: Yes
Induction Suitable: Yes
Oven-safe Temperature: 400°F
Limited Lifetime Warranty