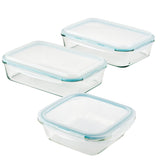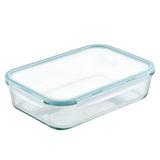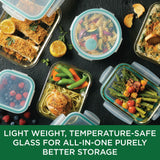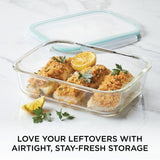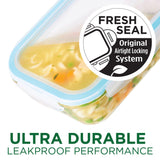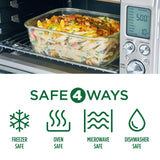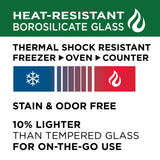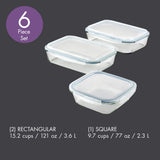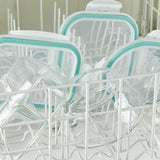 LocknLock
>
Airtight-Leakproof Borosilicate Glass Bake and Take 6-Piece Food Storage Set
WHAT YOU GET: Two premium 9-inch x 13-inch bakers with lids and a premium 8-inch x 8-inch square baker with lid have a 4-hinge locking system lid for deliciousness that lasts from the counter, to the fridge, to the freezer, to anywhere your foods need to stay fresher, longer
SUPERIOR QUALITY: High performance, premium glass baking dishes are crafted from borosilicate glass that's tougher and lighter than regular tempered soda glass, so it's more durable, easier to handle, and can take extreme temperature swings without cracking or shattering
AIRTIGHT FRESHNESS: A double chamber silicone gasket lid locks out air to seal in freshness. LocknLock Purely Better premium glass bakeware is odor-proof, leakproof, and reduces the potential of freezer burn for no-worries storage anywhere you need it. This incredible lid has been durability tested to last up to 3 million uses, so give it what you got!
BAKING WITH GLASS: LocknLock Purely Better Glass bakeware delivers the crispier edges you want on lasagnas and fruit crumbles for superior results when stacked up against nonstick baking pans. Plus you can watch recipes as they bake!
SPACE SAVING DESIGN: Clean lines and clunk-free handles make it easy to store these glass bakers in tighter spaces, freeing up space in the fridge or freezer, not to mention amazing space-saving storage in cabinets and kitchen drawers
Set Contents:
Two 9-inch x 13-inch bakers with lids, one 8-inch x 8-inch baker with lid
Optimal baking and premium food storage has arrived with the LocknLock Performance Glass Bakers Set. Crafted from borosilicate glass, this set of bakers with lids is designed to be more durable, lighter, and easier to handle than tempered soda glass. Plus they're much more resistant to cracking and breaking when exposed to extreme temperature changes, so feel free to cook, freeze, and reheat that lasagna straight from the freezer.
SKU : 09329
Dishwasher Safe: Yes
Microwave Safe: true
Oven-safe Temperature: 750°F, without lid
Lifetime Limited Warranty