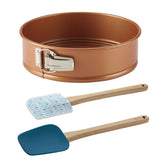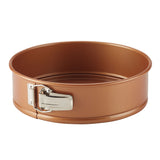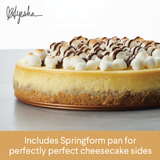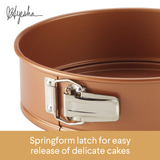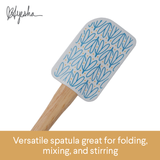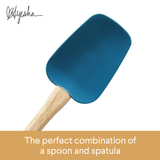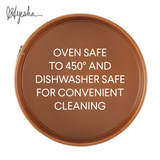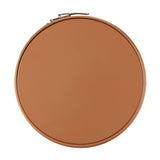 MADE TO LAST: Heavy-duty, high-performance steel Springform pan construction boasts extended edges for easy handling in and out of the oven
EASY RELEASE: Long-lasting, enhanced quality nonstick helps promote even baking and browning and easier food release
MIX AND MAKE: Spatula, spoonula, and Springform pan set is ideal for battering up and baking cheese cakes, creative casseroles, and other sweet and savory recipes
IDEAL FOR EVEN BROWNING: Springform pan is oven safe to 450 degrees F and is ideal for cakes and quiches without a side crust
SET INCLUDES: 9.5-inch Springform pan, 11.5-inch spatula, 11.5-inch spoonula
Set Contents:
9.5-inch Springform pan, 11.5-inch spatula, 11.5-inch spoonula
Equally perfect for a New York cheesecake or a crustless key lime pie, the Ayesha Bakeware Springform Pan features an enhanced nonstick coating for easy, dependable food release. Matched with an 11.5-inch spoonula and 11.5 inch spatula, this springform pan set is ready for all of your delicate cakes, quiches, and savory deep dish Chicago-style pizza.
SKU : 09304
Rolled Edges: true
Wire Reinforced: No
Dishwasher Safe: Dishwasher Safe, Hand Wash Recommended
Heat-safe Temperature: Quality Assurance Guarantee
Oven-safe Temperature: 450°F
Quality Assurance Guarantee
Cookware, bakeware, and kitchenware products sold on Potsandpans.com are engineered for performance, versatility, convenience, and safety. Our nonstick coating is manufactured to comply with FDA and EU regulations for food contact safety standards.
This product contains (Este producto contiene) Aluminum, Copper. For more information on chemicals in this product, visit (Para obtener más información sobre productos químicos en este producto, visite) https://www.potsandpans.com/pages/product-disclosures.