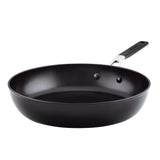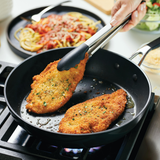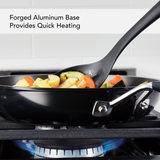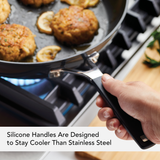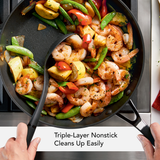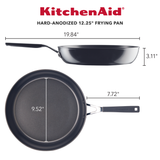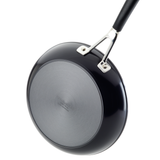 KitchenAid
>
Hard-Anodized Nonstick 12.25-Inch Frying Pan
QUICK HEATING PERFORMANCE: Thick aluminum base and thinner side walls provide quick heat distribution and a lightweight, warp-resistant frying pan
MADE FOR EVERYDAY COOKING: KitchenAid frying pan is crafted from durable hard anodized aluminum that is 6x harder than traditional aluminum for quick heat distribution and everyday use
TRIPLE LAYER NONSTICK: Skillet interior has been finished with triple layer nonstick for long-lasting food release and easy cleaning
GOURMET UPGRADE: Handle rivets are finished with triple layer nonstick to release foods and keep the interior of the pan looking newer, longer
SILICONE GRIP HANDLES: Dual riveted handle is finished with silicone grips to remain cooler while cooking on the stovetop
Product Dimensions:
19.84"L x 12.13"W x 3.11"H
Featuring a thick, forged aluminum base provides quick heat distribution, while thinner side walls allow the pan to remain lightweight and warp-resistant. This 12.25-inch skillet has been crafted from durable hard anodized aluminum that is 8x harder than traditional aluminum for long-lasting everyday cooking. Fry pan interior and handle rivets have been finished with triple-layer nonstick to effortlessly release foods and keep the pan looking newer, longer. Dual riveted stainless steel handle is finished with a silicone grip to remain cooler while cooking when compared to traditional stainless steel handles.
SKU : 84802
Base Material: Basemark
Body Material: Hard Anodized Aluminum
Exterior Finish: Silicone Polyester
Handles: Dual Riveted (nonstick) Silicone with Stainless Steel
Interior Surface: Nonstick
Dishwasher Safe: No
Induction Suitable: No
Oven-safe Temperature: 400°F cookware, 350°F lids
Get the Most Out of Your Cookware

Match your burner size to your pan size. Don't leave an empty pan on a hot burner or to boil dry.

Heat your pans on medium to low heat. Try a little oil or butter to avoid cooking sprays.

Use potholders when handling hot cookware. Use silicone or wooden utensils.

Cool cookware completely before hand-washing with warm soapy water and a soft sponge